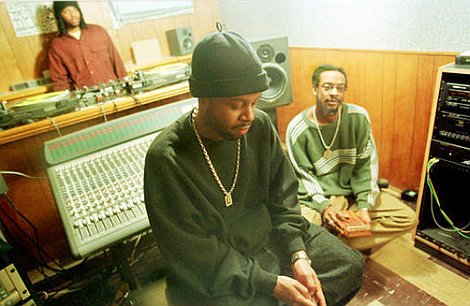 so it goes without saying that i am a huge fan of Dilla's music. today would be his 37th birthday, and thursday will mark the 5th anniversary of his death. i'm expecting alot of jay dee content to overrun the net this week, and i'm totally ok with that. dilla deserves your stannery. anyway- here's a couple things that caught my eye today, starting with the "still shining" documentary, spotted at
nahright
.
"J.Dilla: Still Shining" from B.Kyle on Vimeo.
i also wanted to post this shit i saw today at
The Smoking Section
. raj from TSS wrote -
a trio of NYU students calling themselves Stray Phases – Storm Siegel on drums, Dave Mainella on piano and Evan Crane on bass – performed a rendition of Donuts, to a small crowd of locals at a NYC bar on Sunday October 17, 2010. It goes from cover to cover, precisely recreating his music with a jazz twist, as an ode to the late musician.
J Dilla's Donuts Performed By Stray Phrases by TheSmokingSection
and finally, DJ Rhettmatic put together a pretty dope mix of some dilla produced crack rocks, spotted at at
KevinNottingham
.get it
here
.
i'm also gonna put together a dilla mix of my own, for the homie
Speez
, and i can't wait to hear what he does with it.(ll) once i finally get all my music back that i lost in the great external hard drive crash of 2010, i'll post that up here for anyone who's interested.
J dilla's music is timeless. it's what i would describe as "holy ghost music".. his compositions have been played at friends funerals, and at my wedding. i almost gave my son "dilla" as his middle name (my wife talked me out of it at the very last minute) his contributions to hip-hop and music in general cannot be overstated. rest in peace, and turn it up!